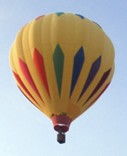 Sun Dancer in Flight
Balloon News
Hot Air Balloon Kiteboarding

The newest kind of mixed breed isn't a dog, but the combination of hot air ballooning and kiteboarding.
Perrier made a commercial that's really fun to watch! If only all our flights were just ilke this.
Perrier Commercial


You think you want an adventure? Here's a tourist hiring a hot air balloon for flying in the arctic next to icebergs!
Iceberg Flying
Watch actors Gregory Harrison and Brooke Elliott take off in our balloon, originally aired on August 30, 2009 (8th episode "Crazy") on the new hit TV show
Watch video clip from
Drop Dead Diva.