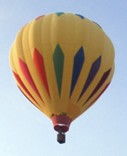 Sun Dancer in Flight
Balloon News

Think you can't do two things at once? Here's a man who runs a Half Marathon while ballooning.
Read the full story...
You think you want an adventure? Here's a tourist hiring a hot air balloon for flying in the arctic next to icebergs!
Iceberg Flying
Check out pictures of the Freedom Weekend Aloft
Hot Air Balloon Festival we attened in June 2011 at our
Facebook Page...
Watch actors Gregory Harrison and Brooke Elliott take off in our balloon, originally aired on August 30, 2009 (8th episode "Crazy") on the new hit TV show
Watch video clip from
Drop Dead Diva.
11 Alive's Wes Sarginson rides
with Magic Carpet Ride for a
story on great gifts for Dad.
Read about it...